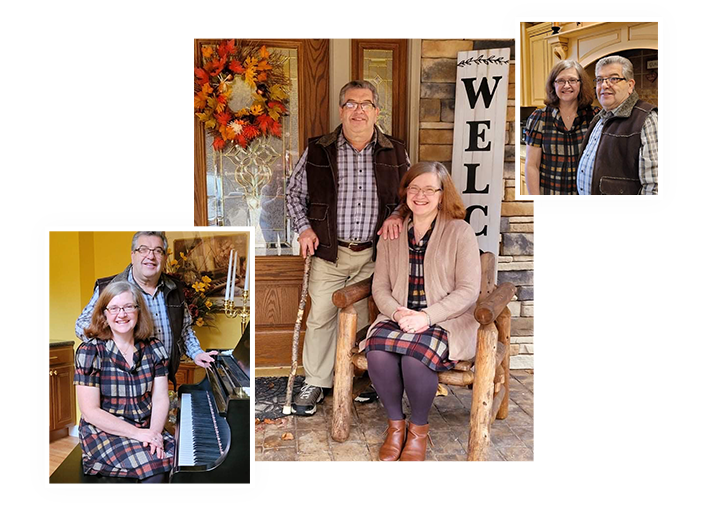 Rick and Donna are natives of southwestern Pennsylvania and are delighted to be able to share their knowledge and love of this area with their guests. Rick was employed by Westinghouse Electric Corporation for 24 years when his job was unexpectedly terminated due to corporate downsizing. Not wanting to leave this beautiful area and not able to obtain similar employment in the area, Donna began to turn her love of sewing into a temporary livelihood to support their family of four growing sons by starting Sew Special in their home. She took in alterations, made costumes, gowns, draperies and did all types of sewing related projects. In 1997, they purchased their first commercial building and moved Sew Special to a downtown storefront. In 2000, they became a premiere Husqvarna Viking sewing machine dealer. In 2002, the purchased a second commercial property adjacent to their first building and expanded their sewing classes and fabric inventory. Today they are a full-fledged quilt shop with two separate locations in Uniontown.
The B&B was purchased in 2009 and completely renovated in early 2010. Seams Like Home has been open to guests since July 2010 and has had visitors from all parts of the globe!
They are members of the Fayette Chamber of Commerce, the Laurel Highlands Visitor's Bureau, Fab Shop Network and Pennsylvania Association of Bed & Breakfast Inns. Rick is a certified Husqvarna Viking/PFAFF service technician and Donna is a certified Husqvarna Viking/PFAFF sales, support and software educator. Donna has been active in local 4-H sewing clubs, judging sewing entries at local county fairs, giving sewing demonstrations, and addressing quilt guilds and sewing groups.
Seams Like Home Quilt Retreat and Bed & Breakfast is the perfect way to combine their love of the area, their love of textile arts, and their love of people! Donna says, "We try to make all of our customers feel "Sew Special" and we would love for you to visit. We think you'll agree that it "Seams Like Home!"