Welcome to Seams Like Home

Located in the beautiful Laurel Highlands of Southwestern Pennsylvania, midway between Uniontown and Connellsville, is Seams Like Home Bed & Breakfast and Quilting Retreat, nestled on four acres of rural wooded hillside. 
Seams Like Home is the perfect place to stay while visiting local attractions such as Frank Lloyd Wright's Fallingwater, Kentuck Knob or Duncan House, or any number of other beautiful and historic areas like Ohiopyle State Park, Fort Necessity, or Flight 93 Memorial.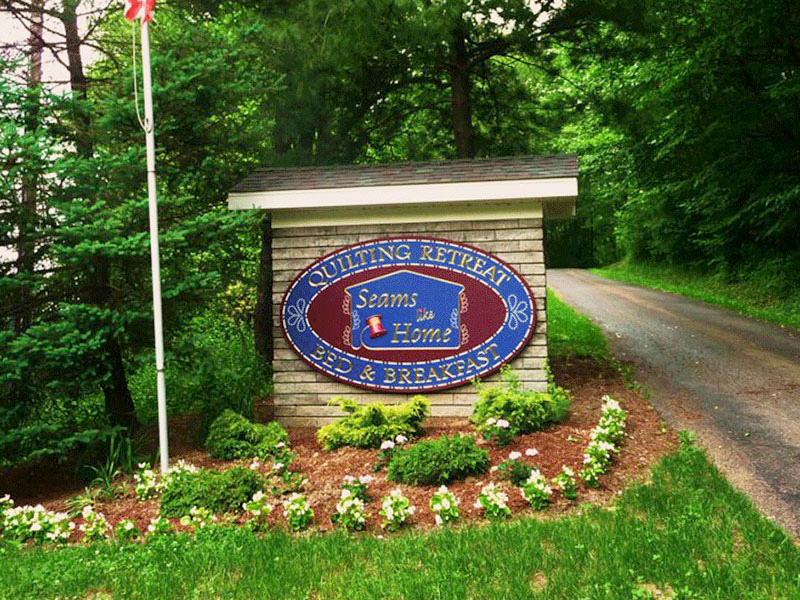 Seams Like Home is a place of ultimate peacefulness and relaxation where you can escape the stresses of everyday life.  Take a walk among the lush foliage and enjoy some wildlife native to our area including many species of songbirds, sit by the pond and watch the fish and the ducks while listening to the relaxing sound of the water fountain, or gather around the firepit in the evening and make s'mores while savoring the day's adventures.  From the moment you enter the winding, private, tree-lined drive, you will know that your experience here is going to be very special!
Seams Like Home is also a perfect place for a quilting, sewing, or scrapbooking getaway retreat where you can allow your creativity to blossom.  In fact, many of our guests call it the "quilting spa!"  But it is also a great place to celebrate a birthday or anniversary, stay for a nearby family wedding, or just enjoy a quiet escape.  Inform us if your stay is a special occasion and let us cater to your every need.

If you are a cyclist enjoying the Great Allegheny Passage, Seams Like Home is a great place for a quiet, restful night's sleep.  We are less than three miles from the trail town of Connellsville and offer free shuttle service to and from the trail.  You can hose your bike down and store it indoors if needed and have access to FREE laundry facilities.  After a good night's sleep and a hearty home-cooked breakfast, you will be ready to resume your adventure on the trail refreshed and renewed!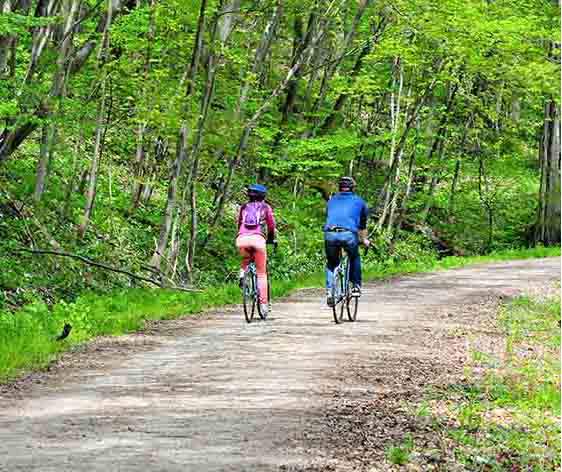 Great Place To Stay!!
We were biking the GAP Trail and the C&O Trail. When we called Rick, the owner, he suggested a good restaurant in Connellsville and then came with his trailer to pick us up and take us to his fabulous retreat. The rooms were spacious and clean and the breakfast was delicious. And, after breakfast Rick once again shuttled us back to the trail. It was a wonderful experience with gracious hosts and delicious food. We recommend Seams Like Home to anyone biking through.

Highly recommended. The hosts provide prompt complimentary transport to and from the trailhead. Once settled in we felt pretty pampered. The property is isolated, peaceful and quite lovely. We were treated like special guests, and they arranged transport and breakfast around our schedule despite having multiple other guests to also serve. I thought that was really quite exceptional. Quite a gem of a place.

Very nice accommodations and great omelette breakfast. Rick and Donna are interesting people and have a nice life out there in rural Pennsylvania making you feel at home. Also great location if you're visiting Fallingwater. Highly recommend!

Clean. Roomy. Private Bath with bedroom. It seems the house was built to be a B&B. Hosts pleasant. Though we did not use it, the hosts will pick up bikers in Connellsville and bring them to the house. Definitely something to consider for our next biking out on the GAP! I enjoyed the fire pit in the evening.

5/5
Had a week long quilt retreat here with friends--this is our 4th year for this event!. It truly feels like home but with a cook to spoil us. Love this place.

5/5
I couldn't think of a better name for this place in a million years. The rooms are so cozy with handmade quilts on every bed and the owners make you feel like family even if this is your first visit. The food is amazing every time I've been there. They have a large classroom on the second floor right down the hall from the guestrooms that can be used for whatever you like. I've spent many happy and productive days there sewing away undisturbed. There are a lot of local attractions and you will find interesting things close by to do no matter what you're into!

5/5
My boyfriend and I stayed here with our little girl a couple of months ago. They changed our room to one without us asking so that we would have a bathtub for her. We were cooked a wonderful breakfast every morning. The husband and wife that run this bnb are the loveliest couple. We highly recommend this place to anyone staying out in Vanderbilt!

5/5
If you're looking for somewhere to relax in the beauty of nature's surroundings, this is the place for you. The owners are waiting to treat you like family. The phrase "Enter as Guests, Leave as Friends" is noted on their Dining Room wall, and there could not be a truer statement.

5/5
This is probably the best B&B I have ever been in. The rooms are large and beautiful, bathrooms are amazing. The shower is fantastic. The couple that owns it treat you like royalty and are very kind and willing to accommodate. They served a wonderful satisfying breakfast. We were ready for our long bike ride.
It is not adjacent to bike path but we wanted something away from train noise at night.
I am so glad we went here.
I want to come back to enjoy their outside as well as the inside. They have a pool table room that invited relaxation and fun.

Carmen S.